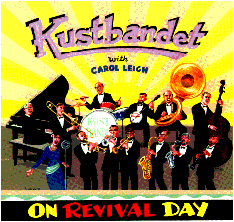 STOMP OFF RECORDS
CD 1294
NOTES by Richard Hadlock


Longtime collectors of 78 RPM records remeber well the thrill of turnign up the occasional obscure item by an unknown group which proved to be a terrific jazz band. It was a great payoff for hours of sorting through piles of gritty rejects.
A similar kick awaits the jazz CD collector who has yet to hear Sweden's Kustbandet and its remarkable trumpet soloist Bent Persson. Here is a dedicated, swinging company of able musicians who double as jazz scholars. They know their 'twenties and early 'thirties American music, whether it be called jazz, hot dance, big band, stomp, swing, New Orleans, Ellingtonia, blues or just popular songs of the time.
The old days of European attempts at jazz, when rhythm players were wooden and horn sections rendered rigidly "proper" readings of band charts, are fortunately gone forever. Kustbandet could easy be taken for a 1929 teritory band out of, say Dallas or Omaha. This happy sound, as American as a Misssissippi riverboat, now belongs to the world.
Hop Head
Jungle Blues
Money Blues
Do Something
That´s My Home
Star Dust
Gee Baby,
(Ain´t I Good To You)
Rent Party Blues
Hoosier Sweetheart
Black And Blue
Puttin´ On The Ritz
Freeze And Melt
Rockin´ Chair
That Rhythm Man
Patrol Wagon Blues
On Revival Day
After You´ve Gone
Claes Göran Faxell tp
Bent Persson tp arr 5-7 9-10 13-14 16-17
Ola Pålsson tp vo
Jens Lindgren tb vo
Bo Juhlin btb tu
Göran Eriksson as cl arr 2 4 8 11
Jan Åkerman as ss cl
John Högman ts bars cl
Åke Edenstrand p
Göran Lind sbs
Hans Gustafsson ban g
Christer Ekhé dr vo



Keith Nichols arr 1 12
Claus Jacobi arr 3
Rolf Koschorrek arr 15
recorded 1992-4 in Stockholm by Lars Johansson